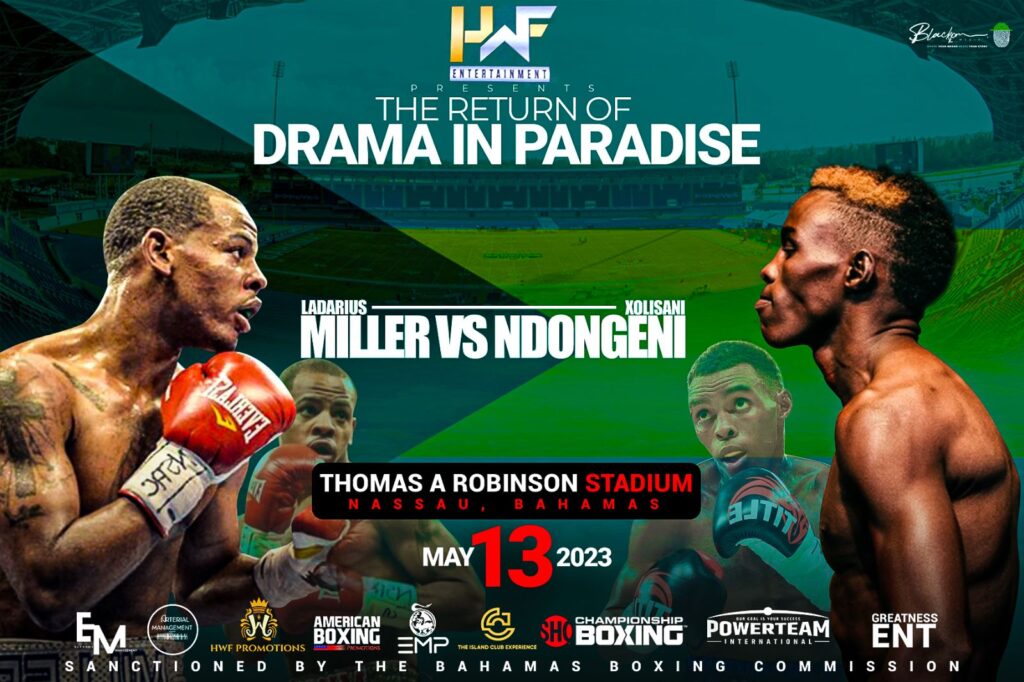 Wednesday, January 11, 2023
The Bahamas Boxing Commission (BBC) on Wednesday, announced that after working diligently with Bahamian entertainment promoter Whitney Ferguson for three years a blockbuster of an event is scheduled for Saturday, May 13, 2023, for the new Thomas Robinson Stadium at the Queen Elizabeth Sports Centre.
According to BBC Chairman Fred Sturrup, "This is the finest indication of a revival of the sport we love so dearly, in the last decade."
"I wish to heap praises on Promoter Whitney Ferguson. He has demonstrated perseverance at the highest level. The calls made to me over the last three years and to BBC Secretary Calvin Greene have been quite a number. There were disappointing occasions when it seemed he would not be able to put a show together, but Ferguson pressed on.
"He networked through the commission with Hon. Mario Bowleg, Minister of Youth, Sports and Culture; US boxing affiliates; and this chairman (who is also a representative of the Commonwealth Boxing Council) to get to this point.
"Now a super boxing show, inclusive of participating Bahamian boxers (a matter being negotiated) is planned. The commission has endorsed the process and confirmed as much with Minister Bowleg. The show has been sanctioned by the Government of The Bahamas through its commission, and hopefully everything will work out," said Chairman Sturrup.
The show, dubbed "The Return of Drama In Paradise", will be headlined by a 10-round match featuring lightweights Xolosani Ndongeni and Ladarius Miller. Other bouts scheduled, are: welterweight-Layla McCarter (USA) vs Claudia Andrea Lopez (Argentina), 10 rounds; heavyweight-Justin Jones (USA) vs Saul Farah (Bolivia), 10 rounds; heavyweight-Richard Lamontage (USA) vs Esteban Hillman (Bolivia), 8/10 rounds; super featherweight-Alexander Casares (Mexico) vs Kevin Lionel Acevado (Argentina), 10 rounds; bantamweight-Abdulazeez Alamoodi (Dubai) vs Jose Garcia Sifuentes (Mexico), 8 rounds; super lightweight-Eduardo Javier Abreu (Argentina) vs Jose de Leon Jasso (Mexico), 6/8 rounds; flyweight- Marlen Avila (USA) vs Haiulie Villalobos Martinez (Mexico), 4 rounds; lightweight- Ashton Barreras (USA) vs Reymundo Gutierrez (Mexico), 4 rounds; heavyweight-Anonia Zepeda (USA) vs Skylar Lacy (USA), 6 rounds; super lightweight-Keith Hunter vs TBA (to be announced).
The commission in its press release, appealed to government agencies, in particular, the Ministry of Tourism, Immigration and Customs Departments, to accommodate Promoter Ferguson as he seeks to present a major event in our 50th Independence Anniversary year.
(A Bahamas Boxing Commission Press Release)