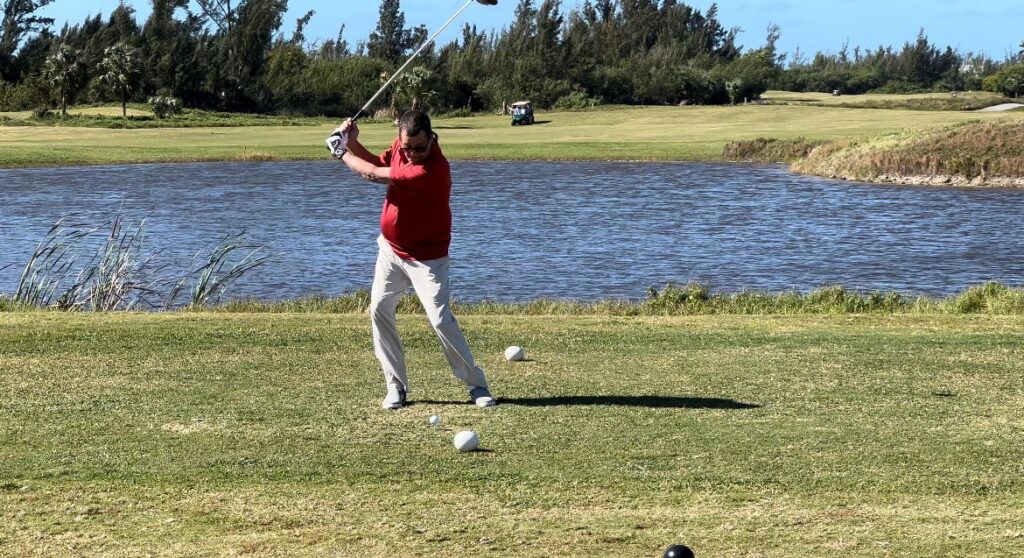 The seventh annual Jonathan Gouthro memorial golf tournament was held on Saturday march 5th, 2022 at the Lucayan reef golf course. The event was conducted by the Rotary Club of Grand Bahama Sunrise with assistance from the Gouthro family. All proceeds from the tournament are placed in a scholarship fund under the same name, to be used for the education of Bahamians interested in an accountancy or business career.
Forty-six golfers teed it up for a shotgun start and the weather cooperated to provide excellent conditions for the event.
Brian O'Connell was the winner of the putting and closest to the pin contest (hole #17), Kirk Bowe had the most accurate drive on hole #12. However, there was no hole-in-one on #4 and no winner of the floating target contest, so garmin (obs marine) kept the prizes for next year. Matt Hynes rounded out the pin prizes taking the longest drive on hole #13.
The tournament was conducted under the "pinehurst format', a combination of best ball and alternate shots in teams of two. The winners were the top three placing two person teams based on net (handicaps) and gross (true) scores.
The winners were as follows:
NET
FIRST- (66) SUE URBAN / MIMI LODS
SECOND – (66) CRAIG O'BRIEN / RUPERT SEARLES
THIRD – (68) MARCUS GOUTHRO / SPENCER GRAHAM
GROSS
FIRST- (75) LYNFORD MILLER / KIRK BOWE
SECOND – (83) JOHN LANE / BRAD CULMER
THIRD – (84) VIC SKINNER / MARTIN BRENT

Wayne Russell of the Rotary Club of Grand Bahama Sunrise thanked the sponsors at the awards presentation at Oceans Blue restaurant in the Ocean Reef Yacht Club & Resort and along with Jamie Sarles thanked the golfers for their participation, especially, Lynford Miller, president of the Bahamas Golf Federation who travelled from Nassau to support the tournament and Allan Gardner who did all the scoring. The event was deemed a success and planning has already begun for next year's tournament.